New releases from Soundiva – APRIL 2017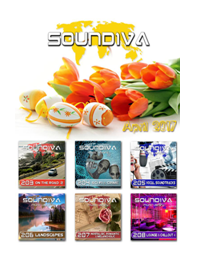 SDCD203 – ON THE ROAD 2
Bright and flowing, in the styles of Rock, Pop and Smooth Jazz with a corporate feel that creates inspiration.
SDCD204 – SCI-FI & CRIME
Dramatic, bold and solemn, featuring orchestral hybrids, ambient and Rock influences that create suspense.
SDCD205 – VOCAL SOUNDTRACKS
Lush, warm and floating, featuring fantasy, epic and orchestral hybrid elements that create an adventurous mood.
SDCD206 – LANDSCAPES
Warm, lush and soothing textures in the style of New Age and Ethereal that creates scenic beauty.
SDCD207 – NOSTALGIC, ROMANTIC & MELANCHOLIC
Gentle, smooth and tender, featuring soothing strings and piano in the style of modern classical to smooth jazz that creates a heartfelt mood.
SDCD208 – LOUNGE & CHILLOUT 4
Smooth, warm and groovy, featuring Chill Out, New Age and World elements that create relaxing moods.