New releases from Soundiva – March 2017 – OVER 200 RELEASES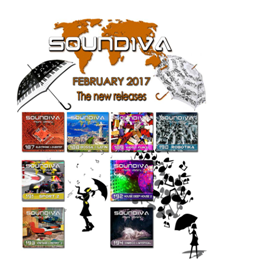 SDCD187 – ELECTRONIC & DUBSTEP
Driving and heavy, featuring gritty synth elements, chiptunes and dubstep elements that create a feel for innovation and technology.
SDCD188 – BOSSA & LATIN
Breezy, bright and groovy, featuring Brazilian and Latin Jazz elements that create a feel-good mood.
SDCD189 – KIDS & FUN 6
Bouncy and bright, featuring comical and quirky elements that create a playful mood.For children, comedy, cartoon, fun, animation and kitsch.
SDCD190- ROBOTIKA
Driving and energetic, featuring Progressive House, Trance and Rave elements that create a determined mood.
SDCD191 – SPORT 2
Heavy and aggressive, featuring Heavy Metal and Alternative Rock elements that create a rebellious mood.
SDCD192 – HOUSE DEEP HOUSE 2
Driving, Groovy and bold, featuring Deep House elements that create a feel for innovation and sophistication.
SDCD193 – VINTAGE & RETRO' 2
Groovy and slick, featuring retro styles from Funk, Disco to Easy Listening that create confident, romantic moods.
SDCD194 – ONIRICO & MYSTICAL
Mysterious, ambient, and solemn, featuring smooth textures that create melancholy, dreaming, haunting and suspenseful moods.